He is looking for his father, arrested and reported missing in Mauritania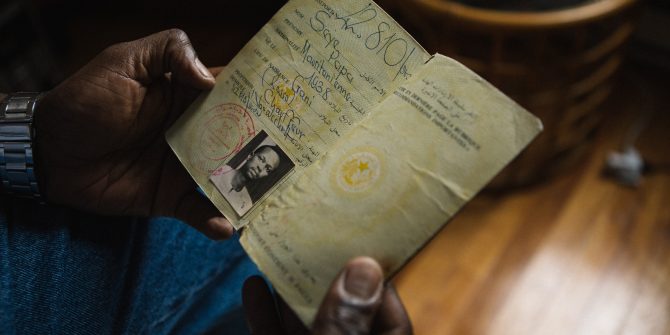 Mamadou's father, Papa Seye, was last seen on June 28, 1990, in Mauritania. Two weeks before his disappearance, he had been arbitrarily arrested by the police while on a work assignment in Aleg, where he remained in a cell for a few days without being charged with any crime. In the 1980 and 90s, this was unfortunately a common occurrence as Black Mauritanians were subjected to a violent crackdown and mass deportations.
To this day, Papa Seye's family is unaware of the circumstances surrounding his disappearance, and neither his whereabouts nor his fate have been confirmed. For almost 30 years, Mamadou has been leading efforts to uncover what happened to his father. With Canadien center for International Justice (CCIJ)'s help, Mamadou filed a communication to the United Nations Working Group on Enforced Disappearances in October 2013, and to the African Commission on Human and Peoples' Rights in April 2015. The communication to the African Commission argued that the government of Mauritania had violated several rights of Papa Seye and his family. We asked the Commission to declare that Mauritania violated those rights, to call on Mauritania to properly investigate Papa Seye's whereabouts, and to compensate the Seye family accordingly.
Mamadou tells us more about his long quest for the truth to finally be known.
Did you ever discuss discrimination against black Mauritanians with your family?
Everyone was aware of the dangers faced by black people in Mauritania. In 1989, many black Mauritanians were deported to Senegal. There was ethnic discrimination in the various spheres of the government. Being black in this country meant that you faced risks everywhere. My mom, the brothers and sisters of my father, and even his colleagues told him he should not get out of the house. But he kept saying he was Mauritanian and had nothing to hide. We knew of the dangers, but we never thought it would happen to us. It was unfathomable, but unfortunately it did happen.
How did your father's disappearance influence your decisions in life?
It forced me to make difficult decisions. Back then, I remember I did not understand when people in the black community wanted to leave the country. For me, leaving was not a solution. After the disappearance of my father, I asked myself what was needed to make a change. I realized later why people were leaving, and I finally had to follow suit and flee the country as well. I was reluctant, but I was now a father and I was worried that my children would suffer like I had suffered.
What do you need to feel that justice was served?
It is extremely important for us that those who assassinated my father be prosecuted and that we can finally know the truth about what happened. I want to know where my dad's body is. It is a duty that I owe to my father.
Lack of justice is what creates and aggravates problems in this country. Justice is the first step toward a real reconciliation so that everyone is treated equally. Racial discrimination has to stop in this country for everyone to feel free and to have the same rights. It is very important for the future of my country, and the future of my children and grand-children.
How did your efforts to seek justice help you?
I am grateful for the work carried out by CCIJ. It motivates me to pursue my efforts until I finally achieve justice for my father. I'm also thankful that I can share my story through this project. It allows me to shed light on what is happening in Mauritania and to contribute to change in this country. We must continue to denounce these crimes and these segregationist policies in order to put an end to indifference and impunity.
*This testimony was left, with Mamadou Seye's consent, to Lawyers Without Borders Canada at the closing of the CCIJ so that his father's story would not be forgotten.
In action
Follow live achievements of our teams in the field.