LWBC participates in a conference in Venezuela on human trafficking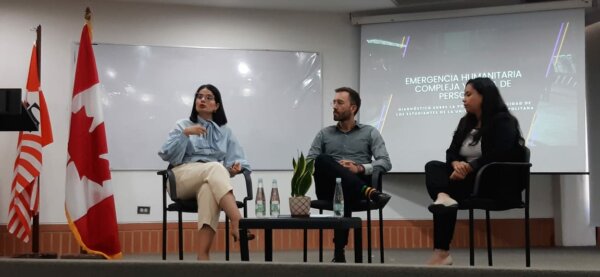 Lawyers Without Borders Canada (LWBC) was invited by the Metropolitan University of Caracas to a conference on human trafficking organized in partnership with the Canadian Embassy in Colombia.
The invitation was extended thanks to LWBC's experience in technical accompaniment for a comprehensive approach to human trafficking in the region. In recent years, the organization has worked closely with prosecutors, ombudsman offices, universities, civil society organizations, cooperation agencies, ministries and police, among other actors.
On this occasion, LWBC was able to share how the organization is currently contributing to the fight against human trafficking in Colombia and Central America and drawing attention to the growing number of migrant victims identified for their particular state of vulnerability, as part of a project funded by the Canadian government (FIN TRATA project).
This exchange also allowed students and teachers who are part of the research groups to learn first-hand about the context and the ways in which academia can be an ally to combat crime.
Finally, ASFC's visit to Caracas also allowed for dialogue with international cooperation agencies and organizations, as well as government institutions in order to better understand the challenges Venezuela faces in the fight against human trafficking.
In action
Follow live achievements of our teams in the field.