Fannie Lafontaine finalist for Canada's Top 25 Most Influential Lawyers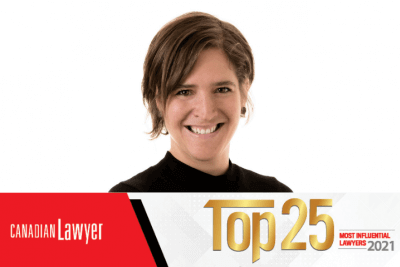 Fannie Lafontaine, a key member of our Board of Directors, is nominated in the Government/Non-Profit/Associations category. Lawyers Without Borders Canada is pleased and proud to support her nomination.
"Since joining the Board of Directors of Lawyers Without Borders Canada in 2007, Mrs. Lafontaine's involvement has been extraordinary. A lawyer, a professor, and a committed leader in the defence of human rights and the rule of law, she is a star in Canada in the field of international law. I am pleased to see her work and dedication recognized by Canadian legal community."
Pascal Paradis, LWBC Executive Director
Fannie Lafontaine, a committed women
Fannie Lafontaine is a full professor at the Faculty of Law at Université Laval, chair of the Canada Research Chair in International Criminal Justice and Human Rights, Director of the Canadian Partnership for International Justice, and Co-Director of the International Criminal and Humanitarian Law Clinic. She is one of the finalists selected by Canadian Lawyer magazine for its prestigious annual Canada's Top 25 Most Influential Lawyers list.
The list honours 25 lawyers and judges from across the country who have made a difference to their profession and to Canadian society.In recent years, Fannie Lafontaine has played an unprecedented role in the investigation of allegations of criminal conduct by police officers against Indigenous people across Quebec. Her expertise has helped bring to light the existence of systemic racism in the police force towards Indigenous people in Quebec, contributing to the creation of the Viens Commission of Inquiry.
She was also the principal author of the supplementary report to the National Inquiry on Missing and Murdered Aboriginal Women and Girls "A Legal Analysis of Genocide". The report generated discussion across the country and received wide international coverage, including at the United Nations and the Organization of American States. The recent and painful discovery of 215 missing children from the former Kamloops residential school further validates the importance and relevance of this analysis.
Fannie Lafontaine's recent contributions are at the heart of some of the most pressing legal and societal issues in Canada and have influenced the way in which colonial violence and systemic racism against Indigenous peoples can be named, challenged and deconstructed.
In action
Follow live achievements of our teams in the field.