Discriminated in Cameroon because of his language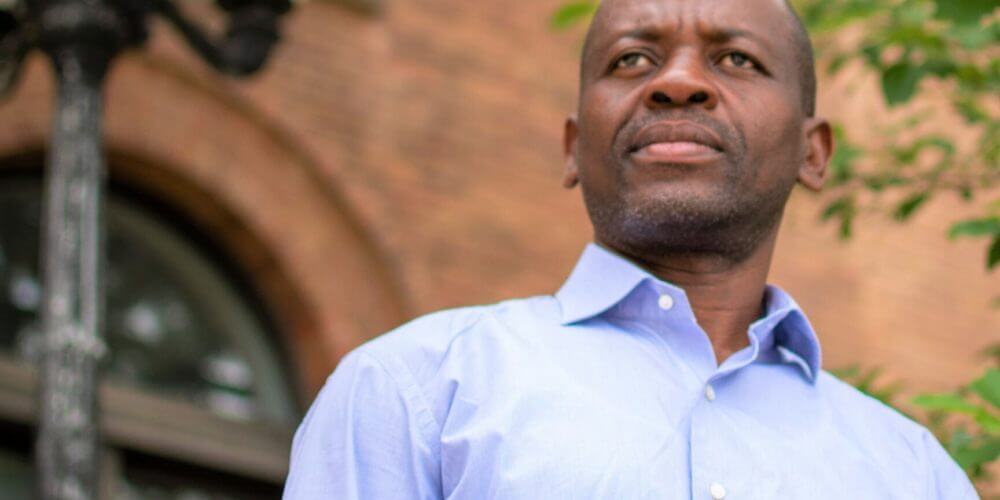 Ebenezer Ntebo Awungafac is an Anglophone Cameroonian civil society activist and a founding member of Global Conscience Initiative, which he has led since 2010. He holds a Masters in Public Law from the University of Douala and has spent nearly two decades advocating tirelessly for equality and justice in Cameroonian society.
As part of his work in promoting the rights of detained activists and other prisoners, he was subjected to death threats, arbitrary detention, and torture in Cameroon.
In 2015, he came to Canada as a refugee claimant and is seeking the right to remain in Canada.
Ebenezer initially approached Canadian organizations for assistance, but found himself turned away. His story is typical of the difficulties facing Anglophone Cameroonians outside their country because their plight is not well understood outside West Africa and even within the region.
In 2017, Ebenezer approached Pearl Eliadis, Canadian Center for International Justice Chair, for assistance in telling his story and seeking justice. A new research team was created in 2018 with the support of the Raoul Wallenberg Centre for Human Rights, the Centre for Human Rights and Democracy in Africa (CHRDA) and the McGill Centre for Human Rights and Legal Pluralism with the aim of preparing a public report on the crisis in the Anglophone regions. Ebenezer was among the team's strategy group, which featured several Cameroonian members of the diaspora.
In June 2019, the team issued a major report detailing ongoing human rights violations and crimes against humanity being perpetrated in the Anglophone region of Cameroon. The groundbreaking report, Cameroon's Unfolding Catastrophe, was launched with members of the Cameroonian Diaspora at the 2019 #RightsCity Conference in Montreal, convened by the Montreal Institute for Genocide Studies and Human Rights.
The report has received global attention and spearheaded renewed efforts to get and keep the matter of the Cameroonian Anglophone Crisis on the global agenda and before the UN Human Rights Council for its Fall 2019 Session.
On June 24, 2019, with the support of Equitas, Ebenezer and another member of the Cameroonian diaspora, Olivia Leke, presented a workshop on the Cameroonian crisis as part of the International Human Rights Training Program. The workshop was attended by 25 members of the IHRTP, including several West African activists and rights defenders.
The CCIJ Board of Directors is thrilled to include Ebenezer's story as an emblematic case study of the challenges faced by smaller communities in sub-Saharan African states, and by individual victims of government security and law enforcement officials who have suffered arbitrary arrest, severe and arbitrary detention and cruel treatment. His story is only one of many. We hope that it will embolden others to come forward and tell theirs.
Ebenezer tells us more about his situation and that of the English-speaking minority in Cameroon.
What was life like for you growing up in Anglophone Cameroon?
I was born in 1975 in Kumba, in the South West Region of Cameroon. This is the region's most populous town, and a political hotbed. Our town has no industry and very few jobs, but is next to Douala, which, being in the Francophone region, has significant industry. This uneven economic development policy forces young Anglophones to migrate to work in the French parts of the country.
To many young people like me, this was not right. I felt many injustices meted out to Anglophones. In state-run public universities, which are supposed to be bilingual, the majority of the courses were taught in French. If you go to the police station and need help, you must speak in French. Most of the police, gendarmerie and military officers who work in the English region of Cameroon are Francophone and treat English-speaking people as second-class citizens or even foreigners in their own land. They sometimes call Anglophones derogatory names.
This situation systematically makes Anglophones vulnerable to extortion. It is not right to have to pay bribes for services that are supposed to be free!
How did you become involved in human rights work?
As an Anglophone in Cameroon, I was acutely aware of the injustices of political exclusion and discrimination. All that I witnessed and experienced motivated me to contribute to changing my community.
I saw that our national elections were rigged and neither free nor fair. There were gross violations of human rights and no sign that anyone would be held accountable. As a young person in 2000, I became politically active and joined the opposition party, the Social Democratic Front (SDF). I later joined a group advocating for separation from Cameroon, the Southern Cameroons National Council (SCNC).
I began working with a good friend of mine, of blessed memory, Samba Churchill Chifu, a journalist and regional coordinator for the Human Rights Defence Group (HRDG), founded by prominent human rights activist, Albert Womah Mukong. Mr. Chifu was a mentor to me.
In 2004, I helped to found Global Conscience Initiative(GCI), with a focus on access to justice for people in Cameroon's rural Anglophone communities.
October is the month when Cameroonian activists remember their struggle for self-determination. In October 2006, many SCNC activists were arbitrarily arrested and detained in the Anglophone regions during the commemoration, and several of them, including youth groups were sent to prison, especially in Kumba and Buea. We tried to seek the release of civil and political detainees whom we believed to be innocent and illegally detained.
These missions were challenging for us because the government and the police accused us of supporting independence and the SCNC cause became the issue instead of our efforts to release innocent activists.
Please tell us about your prisoner rights advocacy work.
Working with Global Conscience Prisoners Rights Project, our intention was to visit the prisons and make contact with long-term prisoners who could not get bail, could not attend court sessions, or had been forgotten in overcrowded cells. We pressured authorities to release those against whom no charges had been laid or to ensure that they appeared before a judge for a hearing.
We also brought in lawyers who provided free legal advice. In Cameroon, if no bribe is paid, you are held for very long periods of time, often indefinitely. We had to push to get cases heard without paying bribes.
In 2009, we investigated human rights abuses in the Kumba Central prisons following the death and torture of some prisoners. Our report generated a backlash from the government authorities who feared punishment following the disclosure of their acts.
I became the Executive Director of GCI in late 2010, after the death of Samba Churchill Chifu. We had to drop our case against the prison authorities because it was too risky for me and other members of the organisation. We began to receive death threats and were told that we would be shot if we pursued the litigation. We could not stand the heat.
Instead, we decided to focus on human rights education and sensitization and opted to take a non-confrontational approach with government and police. We organized training sessions on human rights, collected data about incarcerated persons, and mobilized civil society support for prison communities. We also worked with local traditional councils to improve local governance by eradicating corruption and enhancing fairness and equality in local mediation processes.
Would you please tell us about your arrests in Cameroon?
I have been detained four times for my human rights work.
The first time I was arrested was in March 2003, following the publication of a report that brought to light how the powerful Mukete gang had, with government support, tortured and murdered many people as part of a land seizure strategy. The gang was unhappy with the findings of our investigation.
We were released three days later on condition that we would discontinue the investigation and not pursue the findings. No charges were laid against us, but Samba was thereafter detained and severely tortured by the Mukete gang. He suffered from the effects of his injuries for years for the rest of his life.
In February 2008, there was a nationwide strike in response to increases in the price of fuel and basic commodities. Protests ensued, and Kumba was a hotbed of protesters. I had gone on mission to try to prevent the police and the military from using excessive violence and brutality on civilians and to document any human rights abuses taking place during that period. The police and government officials arrested me and many others, accusing us of being members of the SCNC and encouraging unrest. I had to tell the police that I was no longer a member of the SCNC for fear of being tortured;, but they knew that most Anglophones activists are members or supporters of SCNC so they did not believe me. I spent four days in detention until my colleagues were able to negotiate my release.
Then, in 2013, when I was investigating arbitrary arrests and the detention of some students, I was again accused of being a SCNC member and again arrested and detained. I was released twelve days later.
Finally, in August 2014, I had organized a human rights conference in Kumba. The agenda was misinterpreted by police and government authorities as exposing the corruption in the police and justice system and instigating campaigns for people to stand up against bad policing practices. I was summoned to their offices, interrogated about who had sponsored the conference, and asked why we sought to destroy the image of the government. I was detained in the police station until the next day and released without charges.
What were the prison conditions like in your experience?
The conditions were horrible. The cells had no windows, just small holes at one corner of the wall. The ventilation was terrible, and the cells were overcrowded well above their capacity. Where you ate was where you urinated and where you slept.
The government does not provide food in police cells, so if you don't have friends or family members on the outside who can bring you food, you are at the mercy of fellow detainees who have food brought to them to share food communally with others. There was no running water and no good lighting system.
We could go outside once a day if we were lucky, although some of us were given favour from a police officer on duty. I was given a machete one morning and told to go outside and cut grass around the building with some other detainees. I was half naked, just wearing shorts.
The next day, they took me to an office and said "If you do not want to talk, then we will teach you a lesson!"
I was told to sit on floor with outstretched legs. The stomped on my legs and beat the soles of my feet. I had blisters and wounds on my right foot. This went on for thirty to forty minutes. They usually beat people at night when there are fewer people and no visitors around the building.
What is the status of your Canadian refugee claim?
I came to Canada and sought refugee status in June 2015.
But I had been a member of the Southern Cameroon National Council (SCNC) and its Youth League (SCYL) since 2005. The SCNC's main wing and youth wing had different breakaway factions and one of them espoused the use of force, which I have never embraced. I did not belong to that faction.  I had always believed in the SCNC motto; "The Force of Argument and Not the Argument of Force."
In 1999, when I had finished high school, the SCNC took over the radio station called Radio Buea in the South West region, and declared independence. I was not a member of the SCNC at that time and had nothing to do with the takeover.
Despite this, after I had come to Canada and claimed refugee status, the Immigration and Refugee Board found that I was associated with the SCNC and SCYL, a group that was said to be involved in subversion. The IRB thought there were reasonable grounds to believe that the group aimed to overthrow the government by force. The IRB refused to believe that the various splinter groups were not interconnected.
I have been declared inadmissible to Canada as a result.  I am now in Canada awaiting a risk assessment.
*This testimony was left, with Ebenezer's consent, to Lawyers Without Borders Canada at the closing of the CCIJ so that his fight would not be forgotten.
In action
Follow live achievements of our teams in the field.